She was happy, but I wanted everything. Just like in the movies.
Today I'll introduce
JUST LIKE A MOVIE
, the level 1 book
in the CAMBRIDGE English Readers.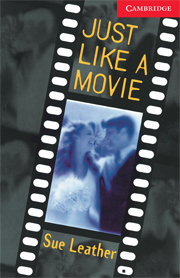 Brad Black loves the movies and often goes to the cinema. One day, he met Gina outside a cinema. Gina loves like them, too. They fall in love. They want to marry but have no much money. Brad thinks that we need more money to get married. But Gina doesn't think that and think money isn't everything. One day, they watch a movie,
Dead Money.
In the movie, the poor man and woman wanted to marry but they had no money. So the woman married a rich man who loved her. But he was old and sick so six months later, he died. She got all his money. After that, she married her young boyfriend. After they watched the movie, Brad said that this is a good idea. Gina thought that it is very stupid! But Brad went to meet one woman Carrie who is very rich... What will Brad do?!
After I read this book, I thought that Brad is very stupid man!